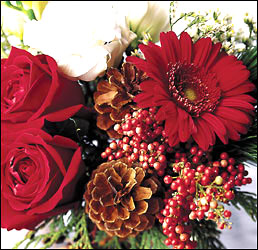 A note at the threshold of 2011
I have returned, along side the New Year,
To break open the locks of prisons.
(A line by Shams-Rumi)
By: Shokooh Mirzadegi
The poison of dictatorship and the absence of freedom in the land where we were born and raised is so toxic and have imprinted their effects on our psyche so deep that even if we leave our country, or to be precise, when we are forced to escape out of it, our traumatic wounds travel with us and awaken our wishes for the dawn of freedom in our motherland everytime we come across moments of social jubilations. That is why I think of freedom – the very rare jewel that has been stolen from my country - more than ever during these days.
These days, there are a lot of joyous moments in the land where I live and now has become my second home. Passing by every house, I can see the lights in the windows, and can return the gaze of the green trees that look at you from amongst the lights and colorful ribbons showing the fact that winter has not been able to conquere them.
We are standing at the threshold of yet another Christian New Year, that ancient ritual that always looks so new; a ritual which is celebrated by most of the people of the world how have no connection to a certain religion. This is an occasion where millions of people put aside their entire individual grieves and joys just to observe this happy retual together, though keeping their individual styles of celebrating with dance and music, hoping for a better world with peace and happiness in the coming year.
Just like old times, we too have our Yalda green tree sitting next to the window. I have decorated it with lights and dolls and birds and have put a sun on its top. Yet, this very tree, this symbol of joy and rejuvenation, reminds me that freedom is still lacking in my country and its name still appears at the top of people's wish-lists.
Celebrating the New Year here is so nice and comforting! It is purely riddled by happy moments. People of all creeds, religions, races, colors and opinions pour into the streets at this special night and await, shoulder to shoulder, the arrival of a New Year that never breaks its promise of punctuality, coming to open the doors of joy to the awaiting crowds. It actually rises from the hearts of the people and makes everyone kiss others on lips and cheeks hoping that their New Year begins with love and kindness.
Yet, the most painful thing in these moments to me is an obvious fact, testified by research in history, that all these ceremonies of trees, presents and happy gatherings stem from my country's Mithraic traditions. It is so sad to recognize that none of these rituals are left today, leaving us with nothing but a deep sense of dissent.
Our neighbors and friends bring us sweets, home-made jams, flower pots, and colorful cards. But amongst all these joyous encounters I suddenly remember that stolen freedom of my motherland and picture those friends of ours who, at these very days and moments, are sitting in windowless and dark cells and no one can see their youthful greenness. They look at the closed doors and their heavy locks, knowing that only freedom can break these barriers - the very freedom that always rises like a sun in every New Year and every merry moment in these happy lands.
After all these long years that I have spent far from my country in many other lands, I have come to the conclusion that there is a noble relationship between freedom and happiness. Wherever there is freedom you can see the growth of happy celebrations; and wherever there is a political prison you can see nothing but the web of a spider called sorrow. I actually think that freedom and happiness are the same and without freedom all joys are fake and hollow.
We are standing at the threshold of a New Year, the eleventh year of the twenty first century.
People wearing the garments of freedom are welcoming their New Year with light and laughter and, amongst all these joys so near to me, I stand, as a citizen coming from a land imprisoned into the clutches of dictatorship, remembering my home more vivid that ever, wishing for the moment when locks are broken and doors are wide open to the people who are trapped in darkness and loneliness.
ِDec 30, 2010